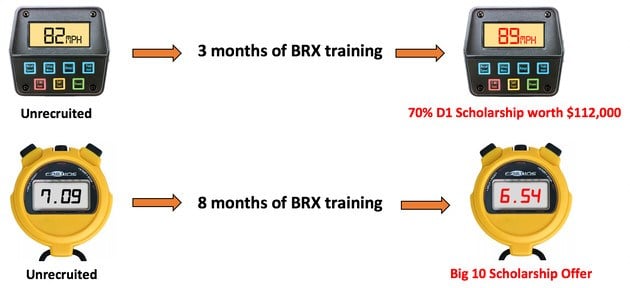 Do you or your son want to play college and professional baseball? Are you frustrated by your current level of recruitment? Do you want to know how to improve your throwing velocity, speed, and power but aren't totally sure how to train for it?
If any of the above resonates with you, I have good news.
My name is Brooks Braga, and I'm the co-founder and director of training at BRX Performance, a sports performance facility that specializes in baseball-specific strength and conditioning. We work with several MLB and minor league baseball players from the Yankees, Angels, Rangers, Marlins, Padres, and Giants organizations. We also train athletes attending or committed to Louisville, Florida, TCU, Arizona St, Oregon St, and many more just looking to make it to the collegiate level. I'd like to share the details and specific exercises from the story at the top and get you to believe you can do it too.
Within one year of opening, we have already helped develop our first MLB baseball player, Ben Heller of the New York Yankees. Ben has reached 100 mph on numerous occasions since training with BRX, and calls working with us "The best decision he may ever make for his baseball career." Here was his debut against the Baltimore Orioles on August 26th of this year:
Would you believe it if I told you he was the No. 3 pitcher on his high school team as a junior and threw in the low-80s?
…more on that in a future email.
Is the only thing available to you your school's football-oriented strength and conditioning program that doesn't understand the unique demands of a baseball player? Do you want to improve your 60-yard dash, throwing velocity, rotational power, and other baseball measurables?
If you answered yes to any of the above, you'll be excited about our long-awaited project that is nearing completion. For the meantime, we highly encourage you to grab our completely free resource, the BRX Baseball Training eBook. Here's a portion of what's included:
Three things you can do TODAY to improve your 60-yard dash and throwing velocity (VIDEO TUTORIALS)
Three mobility drills that helped our Oklahoma St outfielder improve his top throwing velocity from 91 mph to 94 mph after his first session, like the Side-lying Windmill (below)
Three drills that helped a BRX athlete improve his 60-yard dash from 7.09 to 6.54 seconds in less than a year and earn a Big 10 scholarship offer
Football vs baseball strength programs: what do you need to know?
– Which "football lifting" exercises and baseball stretches should you stay away from if you want to stay healthy and improve your baseball performance?
10 muscle-building superfoods
– Gaining weight is the easiest velocity booster on the planet – what foods will help you gain good weight the fastest?
"New rules in baseball strength training" series
– Three articles that will help you know more than 99 percent of baseball players about training the right way for your sport
To get the free eBook, simply subscribe to our free baseball training newsletter below and we'll send it over!
---
If you subscribe, we'll soon cover the story of how three months of training at BRX led to one of our unrecruited clients improving his fastball from 82 mph to 89 mph and receiving a $112,000 scholarship at a Division 1 baseball university, in addition to several drills that made it possible.
For free videos and baseball training content, be sure to check us out on Twitter, Instagram, Facebook, and our website.
Looking To Take Your Game To The Next Level?
Are you struggling to increase your throwing velocity, exit velocity, or running speed? Don't worry; you're not alone. That's why we have developed BDS, Baseball Development Secrets. The Baseball Development Secrets System (BDS) is a baseball-specific strength training program specifically designed to increase throwing velocity, exit velocity, and running speed. The best part is you can get access to our program for 7 days free of charge! If you're serious about your baseball development, Baseball Developments Secrets could be that answer for you as it has been for hundreds of other baseball players. Start your FREE trial today!
Individualized athlete training for incredible results. Choosing to train with BRX Performance allows you to focus on your specific goals as an athlete.