One of our clients at BRX Performance, Ben Heller, is a professional pitcher on the New York Yankees. In 2014, his second year in the Cleveland Indians minor league system, his fastball sat around 92-94 mph. After the season, he spent the entire offseason working with BRX. We received the following text message from Ben during spring training in early April of 2015: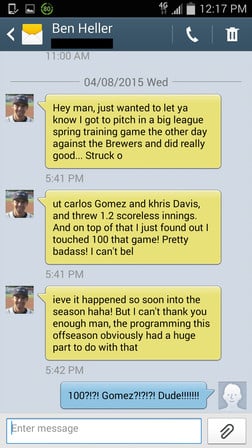 100 miles per hour! There aren't many people who deserve it more than Ben – he's overcome plenty of adversity and works harder than almost anyone we know.
We've gotten to know Ben over the last two years from working with him and writing his offseason strength programs, so we wanted to dedicate this post to a few reasons why we feel Ben was able to improve his fastball from 92-94 mph to 96-99 mph and hitting 100mph on the radar gun after one offseason of training.
1. He trained with a purpose four to five times per week
First and more importantly than anything else, Ben is one of the hardest workers we've ever seen when it comes to tackling a training session. I can usually tell within the first ten minutes of working with someone if they'll get results – let's just say that I had a good feeling about Ben at our first meeting.
Did you still have three more reps left in you after finishing a set? Could you have gone five pounds heavier and still executed the set with perfect form? Ben repeatedly "emptied the tank" as I like to say in each training session, set, and rep.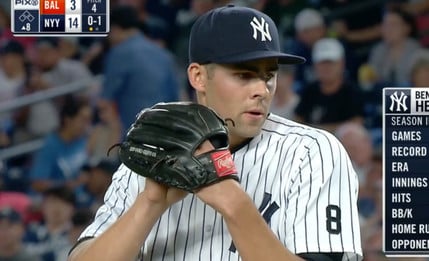 Bouncing off of this point, Ben trained four or five times per week. There is something to be said for consistency in coming to the gym. If you're in high school or older, you aren't going to throw 100 mph or reach anywhere close to your full potential if you're only training once or twice per week or once this week, three times next, then take a week off, etc.
I'll put my money on a guy who busts his butt on a bodybuilding program over someone who goes through the motions on a baseball-specific program any day of the week.
2. He worked on his hip and upper back mobility restrictions
Being the strongest player on the field is useless if you're inflexible or weak at the throwing position. Baseball is a unique sport that requires a unique set of training demands. If the strength you gain in a training program comes with a decline in flexibility, don't expect to throw any harder or see much improvement in a sport where mobility is immensely important. All too often do baseball players warm up with a few toe touches, high knees, and an energy drink. They're missing half of what makes them a successful baseball player – flexibility and mobility.
Two areas that are often neglected are the hips and thoracic spine (mid/upper back). Mobilizing these two areas makes hip and shoulder separation, or the "rubber band effect," more efficient and powerful.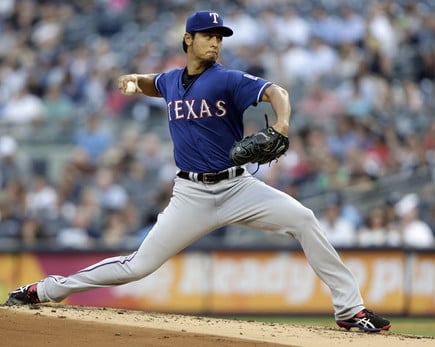 When Ben and I first met for his initial assessment, I found that he was very restricted in his hips and thoracic spine. He had plenty of velocity in the bank just waiting to be tapped into, but there was one problem: he couldn't access it with his current mobility restrictions.
Ben spent around 30 minutes before every training session on working to improve his mobility in areas we identified he needed the most work on during his assessment. Without a doubt, improving his mobility was one of the most important factors in reaching triple digits on the radar gun.
Here's one of our staple hip mobility drills, something we call a groin mobilization:
3. He trained on one leg and in the lateral (frontal) plane
If you recall Part 1 of the "New Rules in Baseball Strength Training" series, baseball is a lateral and rotational sport. Not only that, but you're almost always pushing off one leg, whether on the mound, hitting, or running. Most weight room programs are nothing but two-leg linear exercises. See the issue here? In order to increase our throwing velocity, we NEED to train in the lateral (frontal) and rotational (transverse) planes AND on one leg.
Don't think you can lift a considerable amount of weight on one leg? Here's Joel Effertz, one of our professional pitchers in the Miami Marlins organization, doing a 242lb Bulgarian Split Squat on one leg for three reps.
In addition to linear and two-leg exercises, Ben's strength programs had a heavy dose of single leg, lateral, and rotational exercises.
Ben was blessed with good genetics, but that's only part of the equation. Ben would be the first to tell you that no one outside of himself ever thought he was capable of reaching triple digits on the radar gun. Ben's individualized strength program, consistency, and most importantly his work ethic are just a few reasons why he was able to throw a fastball 100 miles per hour.
Brooks Braga is co-founder and director of training at BRX Performance in Milwaukee, a sports performance facility in Milwaukee that specializes in baseball-specific training. As a senior at Middleton High School, Braga was named the 2009 "All Area Prep Athlete of the Year" by the Wisconsin State Journal. He is second all-time in career home runs at UW-La Crosse (25), set the school record 60-yard dash at 6.4 seconds, and signed a professional contract with the Gary Railcats after his senior year. He can be reached at Brooks@BRXperformance.com and you can follow him on Twitter.
We'll have you starting your own, customized strength and conditioning program in no time.
Looking To Take Your Game To The Next Level?
Are you struggling to increase your throwing velocity, exit velocity, or running speed? Don't worry; you're not alone. That's why we have developed BDS, Baseball Development Secrets. The Baseball Development Secrets System (BDS) is a baseball-specific strength training program specifically designed to increase throwing velocity, exit velocity, and running speed. The best part is you can get access to our program for 7 days free of charge! If you're serious about your baseball development, Baseball Developments Secrets could be that answer for you as it has been for hundreds of other baseball players. Start your FREE trial today!
Individualized athlete training for incredible results. Choosing to train with BRX Performance allows you to focus on your specific goals as an athlete.